Our children and teens deal with more stress than we ever could have imagined at their age. The need for adolescent counseling has grown exponentially over the last few decades. With that comes the need for more options for families. Online adolescent therapy at Modern Recovery Services is available for those looking for an affordable, safe, and professional teletherapy option for their child.
Online Adolescent Programs at Modern Recovery Services feature:
Personalized Treatment Approach
Group, Family, and Individual Therapy Sessions
Intensive outpatient programming utilizing evidence-based curriculum
Personal Coaches Matched to Specific Situations or Conditions
Behavioral and Mental Health Visits Online with a Licensed Therapist
Online adolescent therapy programs are the perfect transition for those stepping down to an outpatient level of care after completing an inpatient stay. But it's also great for those who wish to start a program but need the flexibility of being home and in school.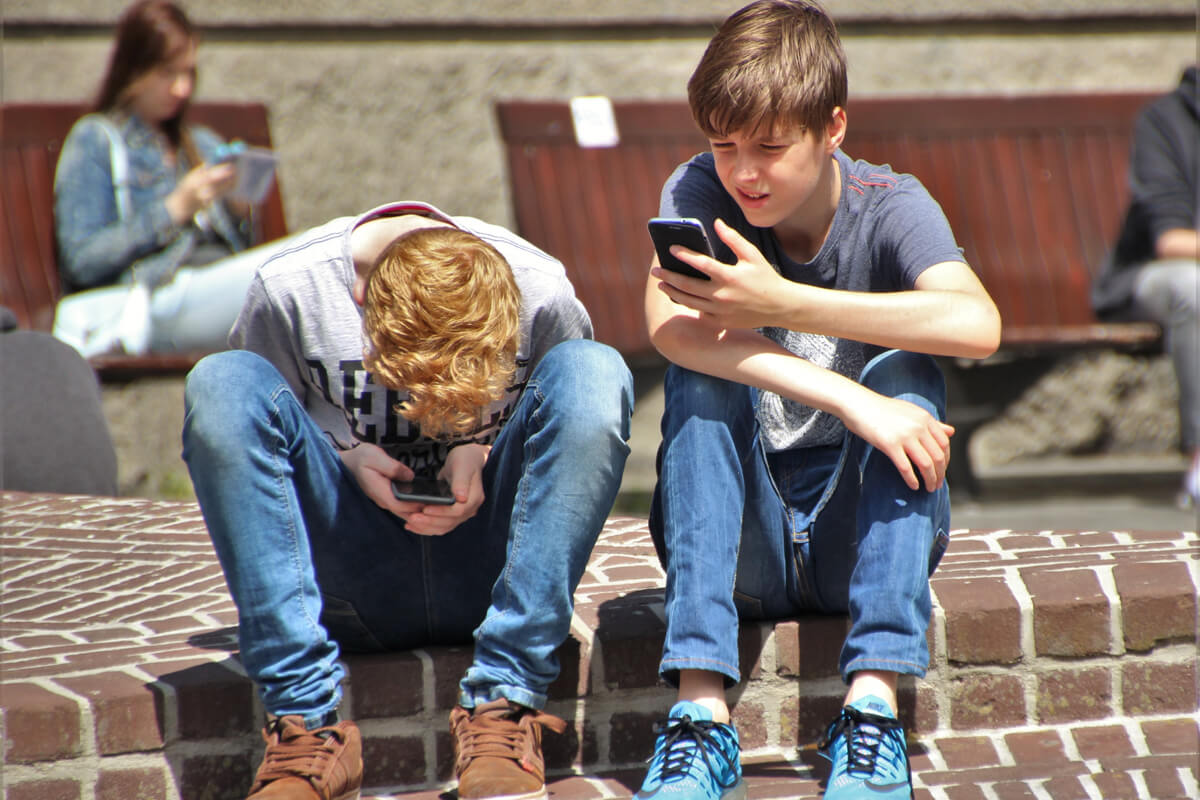 Modern Recovery Services believes in being proactive instead of waiting for something bad to happen to your child. We also believe that all ages can benefit from a qualified treatment team's help and that mental health is just as important as physical health.
What are Online Adolescent Therapy Programs?
Online adolescent counseling programs are our virtual answer to in-person mental health services for your junior-high, senior-high, or college-age child.
While many adults may not feel comfortable with online sessions, children often feel the most at ease when speaking with someone virtually. Even before COVID-19 and virtual schooling, our children regularly interacted via text, facetime, and other communication applications. So most teens are more than comfortable with virtual appointments.
Online therapy programs allow your teen to work within a personalized treatment approach. They will utilize a combination of individual therapy sessions, intensive outpatient programming, and personal coaching.
What Brings Teens to Counseling
While many teens can identify the need for counseling, sometimes there is a subtle shift in personality or behavior that indicates the need for counseling.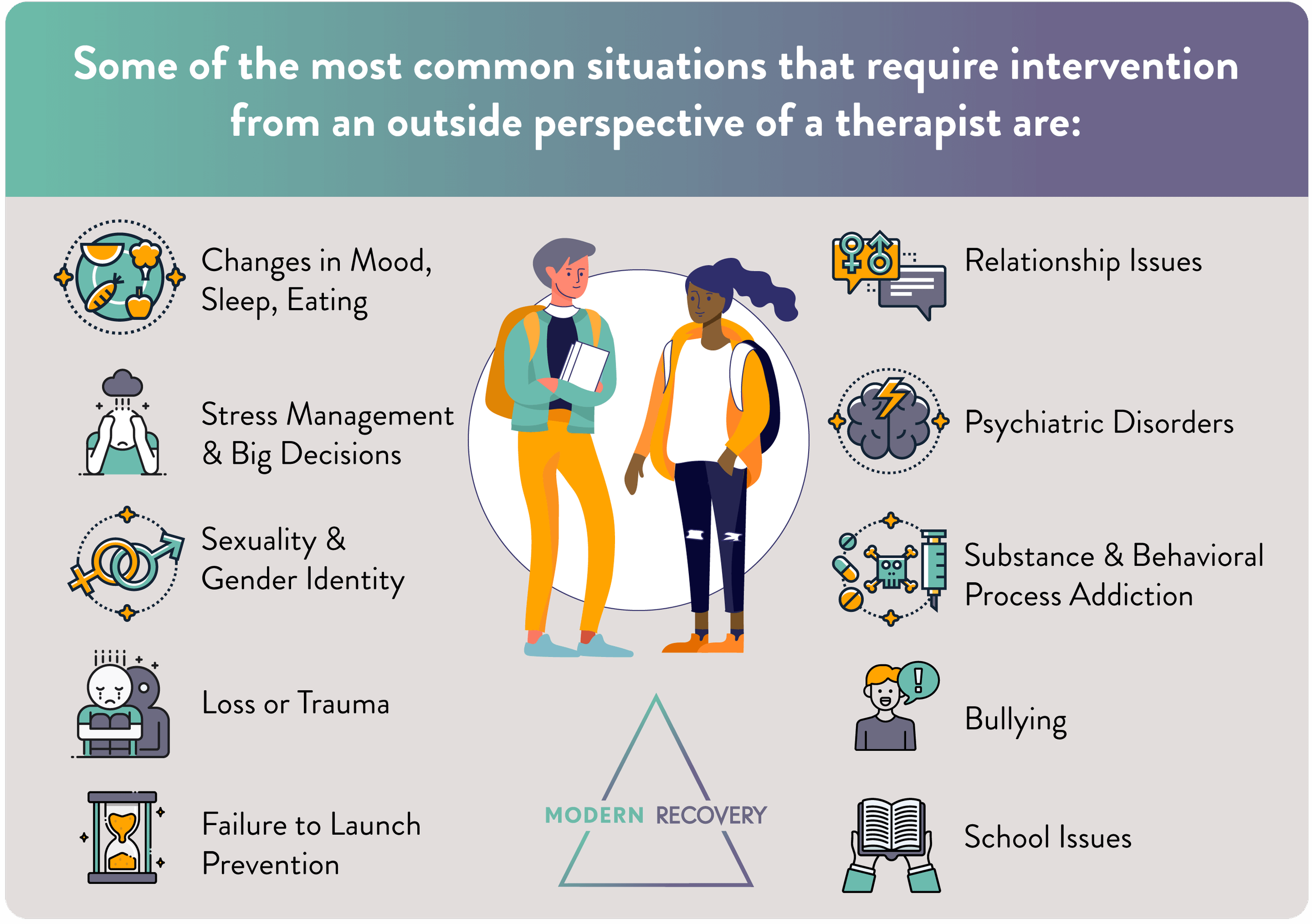 Some of the most common situations that require intervention from an outside perspective of a therapist are:
Changes in mood / long-lasting negative moodsInability to cope with daily problems or situations
Relationship issues (friendships, family, romantic)
Big life decisions
Stress management
Sexuality
Gender identity
Loss of interest in friends/activities
Loss of friend/parent/teacher
Early Intervention for Substance Addiction
Behavioral Processing Addictions
Psychiatric Disorders
Changes in sleeping and/or eating habits
Failure to launch prevention
Gaming/social media bullying
School resistance
More than anything, a therapist and coach can provide a neutral outside perspective to a situation or issue that a teen may be having.
What to Expect During Virtual Adolescent Mental Health Services
Our online adolescent program participants should expect to dedicate at least three hours a day, three days a week, for evidence-based curriculum.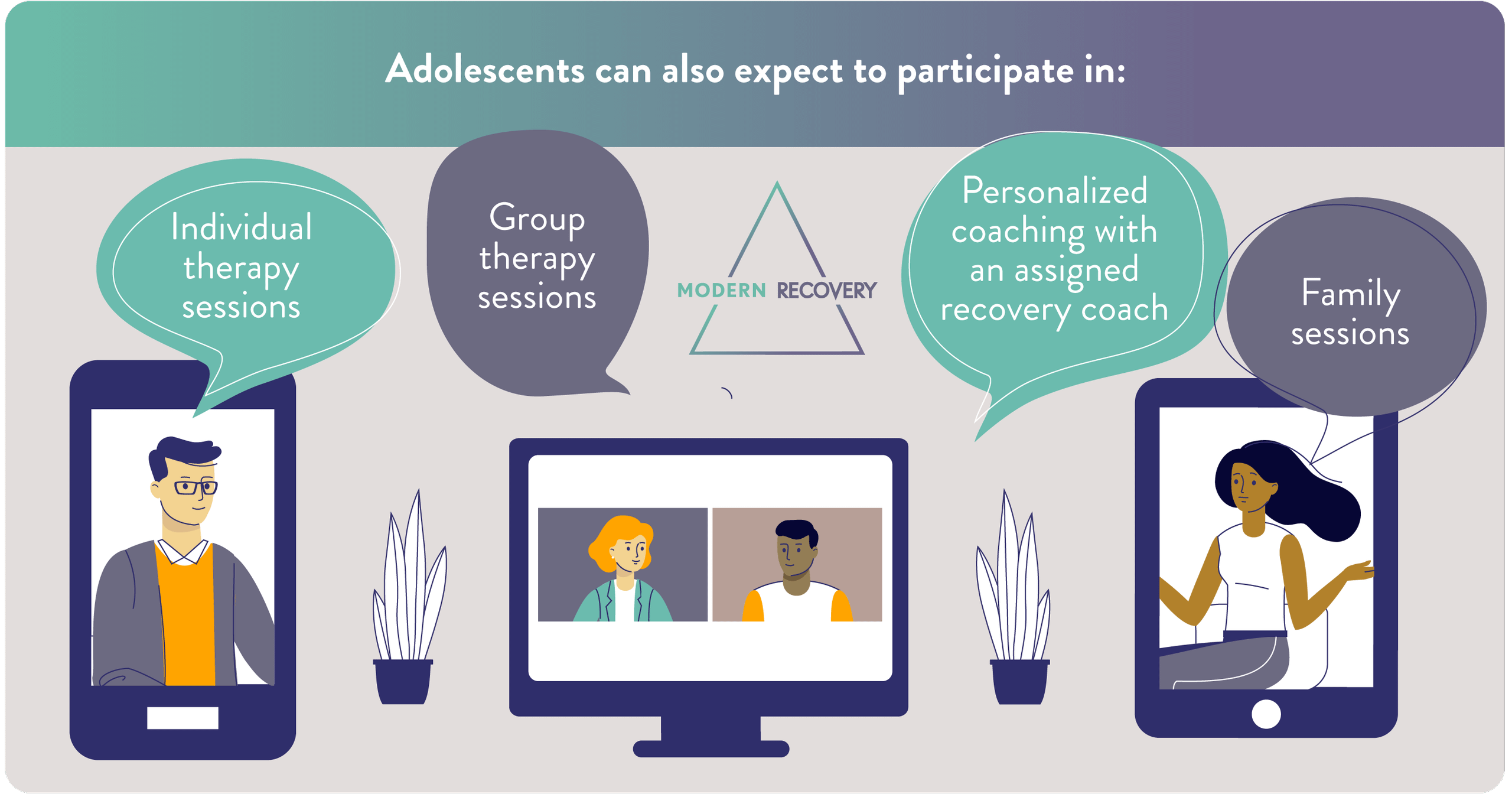 Adolescents can also expect to participate in:
Individual therapy sessions
Group therapy sessions
Personalized coaching with an assigned recovery coach
Family sessions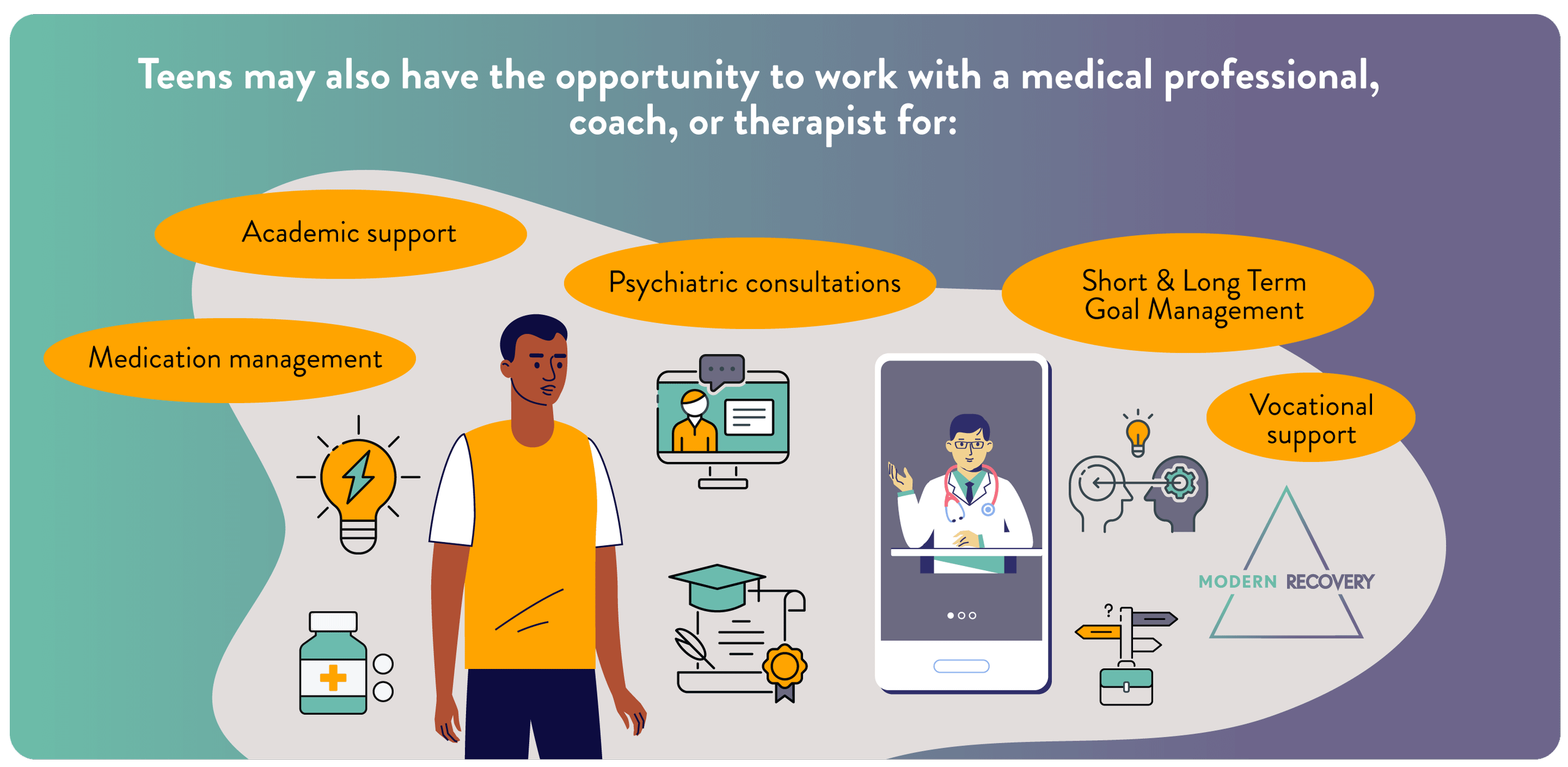 Teens may also have the opportunity to work with a medical professional, coach, or therapist for:
Medication management*
Psychiatric Consultations
Academic Support
Vocational Training
Short & Long Term Goal Management
Benefits of Remote Adolescent Therapy
Some teens will require inpatient treatment for specific situations. However, for those where IOP is appropriate, virtual adolescent therapy is a great option. Most studies indicate that online mental health treatment is as effective as in-person treatment.
Convenience & Privacy of Online Adolescent Therapy
Convenience and privacy are the two most significant benefits of online treatment for adolescents. Meeting from the comfort of your home eliminates the stress and time associated with getting to and from appointments. When a teen is not driving and has to rely on a parent or other adult for transportation, it may be more difficult for them to agree to treatment. There is also the concern of a person waiting for them during their appointment. Or the possibility of running into someone they know when they are feeling vulnerable.
Teens & Technology
Whereas adults may have difficulty transitioning from in-person therapy to telehealth, most teens already feel comfortable with technology. Telehealth will seem more familiar and comfortable for them.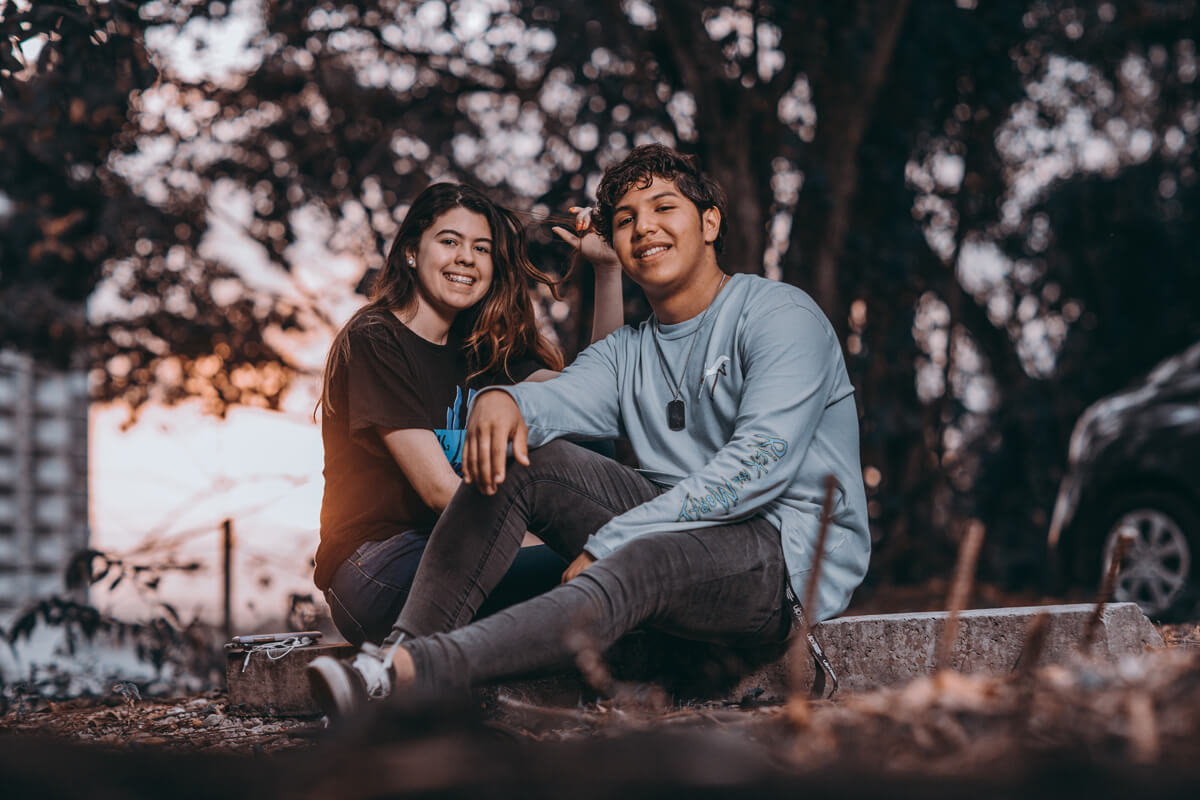 Psychiatric Evaluation & Medication Maintenance
Inpatient treatment options typically include some medication maintenance. However, should someone require medication maintenance or psychiatric evaluation and treatment during IOP, MRS has a Medical Director and several other medical professionals on staff who may help. *
How to Get Started With An Online Adolescent Program
An individual assessment is necessary to begin online adolescent therapy programs. Modern Recovery may also perform physical exams and drug tests if required. After the initial evaluation, if online mental health services are not appropriate for your adolescent's situation, we can work with you to find suitable and reliable treatment.
What You Need to Get Started
You will need a phone, computer, or another mobile device with a camera and internet access.
Does Insurance Cover Online Adolescent Mental Health Services?
Modern Recovery Services can work with many private insurance policies and also tribal communities. Many insurance policies cover the cost of telehealth visits. For more information or verification of benefits, you can fill out our contact form here.
How is Confidentiality Handled?
Except for concerns of harm to self or harm to others, all information exchanged in therapy is protected and bound under HIPAA regulations.
Contact Modern Recovery Services for Online Adolescent Therapy Programs
Whether your teen has come to you asking for therapy, or if you are concerned and would like an outside perspective, Modern Recovery is here to help. Contact us today for more information or to get started.
* Please note that this medication management is currently only available to residents of Arizona. Please contact us if you require this and are living in another state.