Online Mental Health Services with a Licensed Therapist
If depression, anxiety, stress, or other mental health concerns are keeping you stuck in the same place, online mental health services at Modern Recovery Services may be able to help.
The mental health care services Modern Recovery Services offer comprise of:
Personalized Individual Treatment Plans
Online Therapy, Counseling & Mental Health Services
Individual, Group, and Family Sessions
Coaching with an Assigned Recovery Coach, if applicable
As more people realize the importance of taking care of their mental health, online mental health therapy is becoming a more popular option. It's also a great option for those looking to complement their treatment from an inpatient or residential treatment facility. Many of our clients come to us following treatment in a residential center and find the online option for care perfect for their busy schedules.
The programs and services we offer at Modern Recovery Services assist individuals and families through the process of mental health, eating disorders, addiction, treatment, and recovery from the challenges we face in life.
What are Online Mental Health Services?
Online mental health counseling and therapy offer support programs by utilizing telehealth technology to match licensed therapists and groups with people looking for help with mental health, addiction, behavioral health concerns, and more. The online format is convenient, affordable, and is an excellent option for many people.
What sets us apart from other online therapy formats is our personalized approach. Modern Recovery Services' Online Mental Health Services utilize a combination of intensive outpatient programming (IOP), individual therapy, and personal coaching.
Common Reasons to Seek Online Therapy
Some come to online mental health services merely looking for someone to provide a neutral outside perspective to a challenging situation or decision. Others come to online therapy with a specific diagnosis looking for a convenient and affordable method of treatment. Still, others seek mental health care because something seems off, and they can't quite figure it out on their own.
Unlike inpatient mental health treatment, participants can work through treatment while also attending school, work, or having time for family responsibilities. This is an ideal treatment plan for many people who have graduated out of an inpatient setting but still need additional support. They can return to their home, families, and/or employment while still making sure they receive the support they need to have lasting recovery.
When you choose to work with Modern Recovery Services, you not only have access to individual therapy sessions, but you also participate in curriculum-driven group sessions and personal coaching.
Online mental health therapy with Modern Recovery Services is an excellent option for many people looking for help with: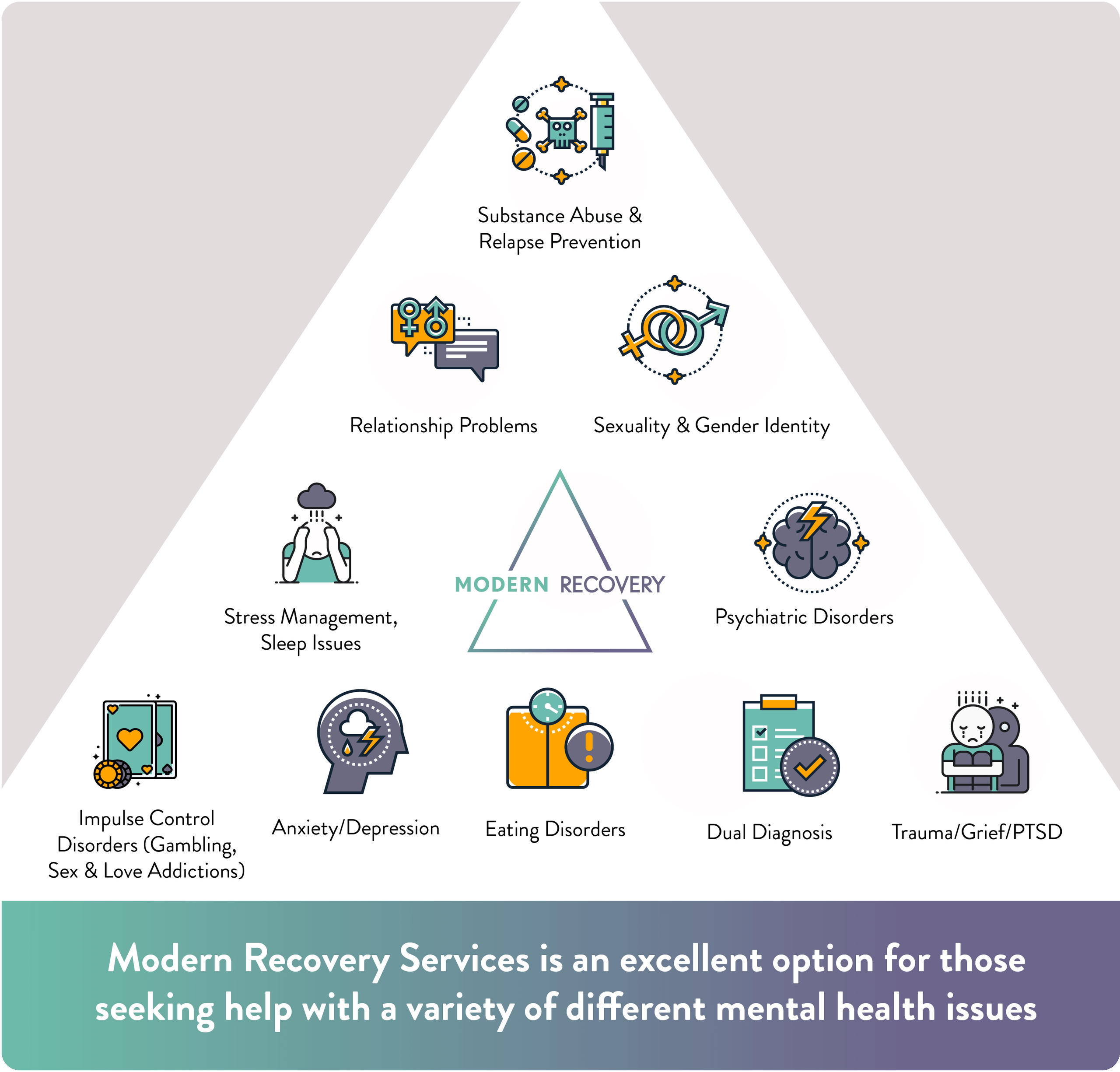 Stress management
Relationship problems
Sleep issues
Psychiatric Disorders
Borderline Personality
Bipolar Disorder
Obsessive-Compulsive Disorder
Depression
Anxiety Disorders
Trauma / PTSD
Grief
Dual Diagnosis
Substance abuse
Behavioral Processing Disorders
Eating Disorders
Sex and Love Addiction
Gambling Addiction
Relapse Prevention
Gender Identity
Sexuality
With Modern Recovery Services' online mental health program, you will not only learn how to manage symptoms of your mental health concern. You will also learn how to make lasting changes by developing a concentrated level of skills and knowledge through our evidence-based curriculum.
Many online mental health programs are designed merely for participants to survive what they are going through. We created our approach at Modern Recovery Services to help participants thrive and live a fulfilling life.
Because there are several components involved in our mental health program, we can personalize your treatment.
Through Intensive Outpatient Programming, Coaching, AND Individual Therapy sessions with a licensed therapist, you will be able to uncover any past trauma that may be hidden and truly work through what you're going through.
What to Expect During Online Mental Health Counseling
Online mental health care with Modern Recovery Services includes programming in several methods. Participants should plan on dedicating at least 3 hours a day, three days a week, for online sessions and evidence-based curriculum.

Before treatment begins, a licensed professional will perform a full assessment, including a physical and psychological evaluation. From there, our clinical staff will review and determine if online counseling and therapy for mental health care are sufficient.*
Participants of online mental health care with Modern Recovery Services can expect to participate in a structured schedule which incorporates:
Individual and group therapy sessions
Family or Couples therapy (if applicable)
Intensive Outpatient Programming utilizing evidence-based curriculum
Medication Management (if necessary)**
Personalized coaching with an assigned coach (specific to your experience and/or diagnosis)
Benefits of Virtual Mental Health Services
Online therapy has become a very popular option for a few reasons. People often find it easier to share personal or uncomfortable details in an online setting instead of sitting across from a therapist. Therapist availability is also much greater because the person looking for counseling isn't limited to the area close to their home or work. Many people prefer to utilize teletherapy so they can access help from the comfort of their homes.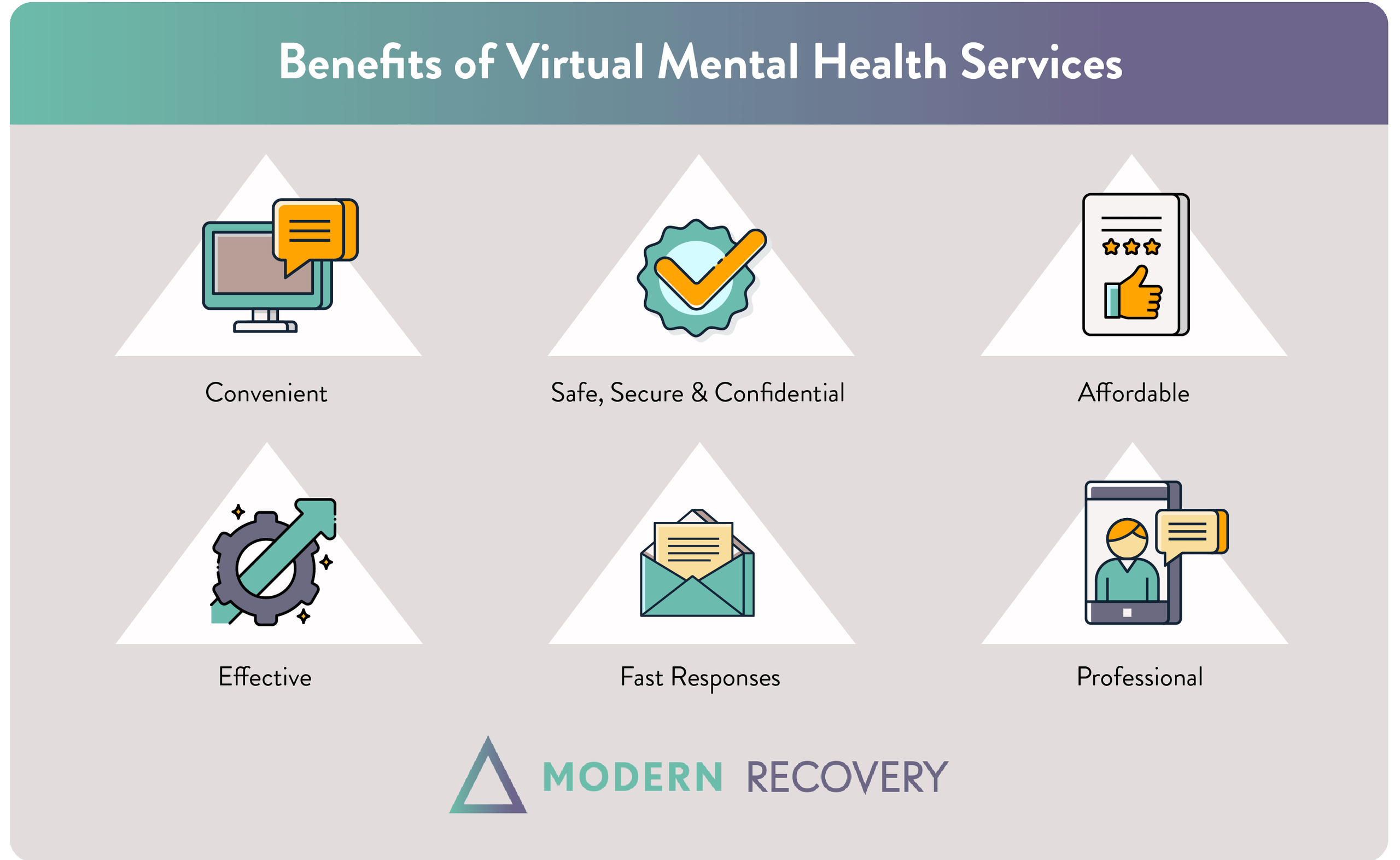 Convenient – Speak with a licensed therapist from the convenience and comfort of your own home. It's also a very accessible option for those who are unable or uncomfortable leaving their home or unable to arrange transportation.
Professional – Participants will work with licensed therapists and counselors and vetted recovery coaches. Modern Recovery Services has a medical director on staff, as well.
Fast Responses – Many therapists have extended hours for answering questions or discussing concerns or dealing with something that came up between scheduled appointments.
Effective – Most research indicates that teletherapy works just as well as in-person sessions.
Safe, Secure, and Confidential – HIPAA privacy laws protect all communication between the therapist and the client. Your information and communication are safe and secure.
Affordable – Many insurance companies have realized the importance of telehealth appointments and will cover a portion, if not all, of your teletherapy and online mental health care visits. Confirm your insurance coverage by filling out this form.
What Do I Need to Get Started with Online Mental Health Care?
You will need a phone, computer, tablet, or another digital device with a camera and access to the internet.
Does Insurance Cover?
Many insurance companies cover a portion, if not all, of the cost of telehealth appointments. Modern Recovery Services can work with many private insurance policies and also tribal communities. Fill out the verification form here if you would like us to check your healthcare benefits for online mental health appointments.
Getting Started with Online Mental Health Services
Whether you've decided that you are ready to get started or have additional questions, we encourage you to reach out to our professional, compassionate staff at Modern Recovery Services by giving us a call [o4] or filling out an inquiry form online today. Our support team is available 24 hours a day, seven days a week, 365 days a year.
*There are some situations where online or outpatient care is not recommended. If this is the case, we will work with those involved to find alternate options for care.
** Please note that this medication management is currently only available to residents of Arizona. Please contact us if you require this and are living in another state.